Young fellows from the Contrada del Leocorno (Unicorn) and Contrada di Valdimontone (Valley of the Ram), Siena. Image courtesy of LIFE.
While studying abroad in Italy a few years ago, I made my way to the city of Siena on a day trip. One of the signature events the city is known for is Il Palio, a horse race held in the tight confines of the Piazza del Campo. Held twice a year, in July and August, the race divides the medieval walled city into seventeen rival neighborhoods or contrade, each of which are represented by a horse and rider. What caught my eye while I was there were the bold, graphic, colorful banners representing each city ward. These banners have definitely been a source of inspiration for me, and a little bit of that can be seen in an installation piece I did called Streetscape.

Il Palio. Image courtesy of news.com.au.
Each ward is named for an animal or a symbol of some sort—Aquila (Eagle), Chiocciola (Snail), Giraffa (Giraffe) Leocorno (Unicorn), Lupa (She-Wolf), and Onda (Wave) to name a few. The division of the city into these distinct zones is historically intertwined with religion and sometimes even socioeconomic class. Along with having distinct names, the different wards have patron saints and mottoes, all synthesized and represented through heraldic symbolism. What's absolutely fascinating is how each contrade has its own particular "allies" and "enemies." To think—all this in a city of just over fourty square miles! Talk about some serious neighborhood pride.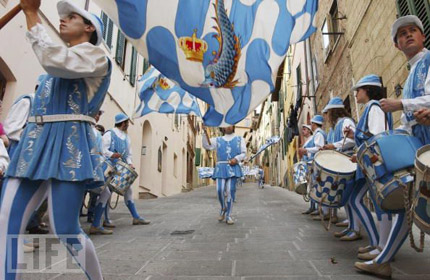 Flag waivers and drummers from the Contrada Capitana dellOnda (Wave), Siena. Image courtesy of LIFE.
So, I'll leave you with a few of my favorite banners and an image that includes all of them. Check out the bold flat colors and and patterns that mix together with mythical creatures and delicate, baroque details here and there. Luckily I was able to bring back a few replicas of these banners with me and I still find them just as beautiful as I did when I first saw them.

Onda (Wave). This image and those that follow are from Wikipedia.

Chiocciola (Snail).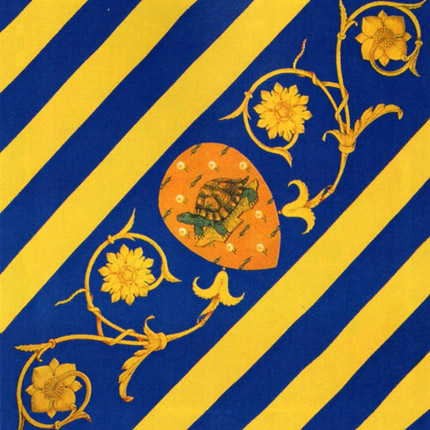 Tartuca (Tortoise).

Valdimontone (Valley of the Ram).

Bruco (Caterpillar).

Siena Contrade.