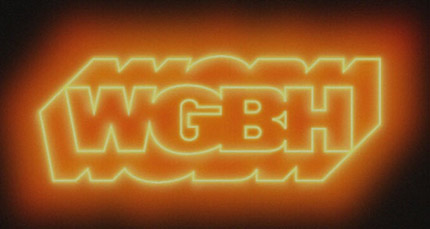 If you've ever spent time watching anything on PBS, chances are you've seen a moving version of the image above accompanied by a signature electronic crescendo. This three-second end title sequence was the work of WGBH design director Chris Pullman in the 1970s and it still airs today.
Last night I was fortunate to hear Chris Pullman speak at an AIGA event at SCAD Atlanta. Pullman was VP of Design at WGBH Boston from 1973 to 2008, during which time the small local public television outfit grew into a producer of one-third of PBS's total national content, responsible for such institutions as Julia Child's cooking show, This Old House, NOVA, Masterpiece Theatre, Frontline, and children's shows such as Arthur and Zoom. On-air projects made up only a small percentage of Pullman's work there. His team was responsible for creating companion guides for programming, fundraising and outreach pieces, books, and eventually a slew of interactive work.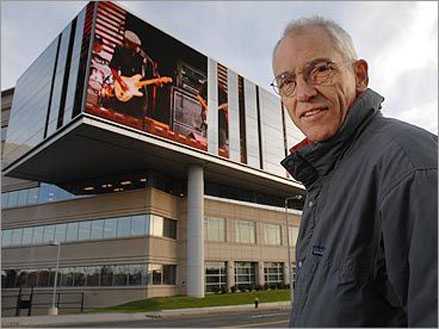 Chris Pullman in front of WGBH's new building, which opened in 2007. He considers his contribution to the design of the building to be one of his most fulfilling design challenges. Image from the Boston Globe
Pullman's lecture, "Some Things I've Learned" spoke directly to so many ideas and issues I've been thinking about recently. He described several crossroads he navigated in his design career. The first was his decision between pursuing an education grounded in the theoretical aspect of design as opposed to the more commercial route. He chose to focus on the former at Yale, where he got his MFA in the 1960s under the tutelage of such design greats as Paul Rand and Herbert Matter. As I've begun thinking more about the path I want to take, it would be amazing to be part of the theoretical setting at a place like Yale and to become an MFA candidate there.

Promotion for Vietnam: A Television History.
The second major decision in his career landed him at WGBH after spending a few years working with famed corporate design guru George Nelson, freelancing, and teaching at Yale. This relates to another big theme of Pullman's, the importance of "doing work that matters." He was fortunate to wind up at a place like WGBH, where his job allowed him to delve into creating content-rich, "pro-social" work that provoked intellectual curiosity while working toward the public good.

Cover design for a Julia Child cookbook.
Chris Pullman's career is an inspiration to me and I would be happy for even a few chances to create work with as much depth and and wide reach as his. For more samples of Pullman's work, check out his collection on the AIGA Design Archives. Some tidbits of inspiration from him can be found on Design Observer.